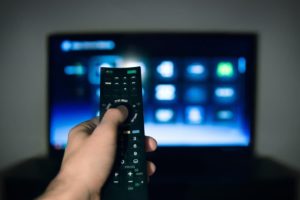 The internet cannot crash. Like a highway, it is built to handle separate discrete "vehicles". The problem with the internet is that it will get congested and become slow. As my rural users say "This is worse than dial-up!!". It can become so slow that you'll move the mouse and wait 10 seconds for the screen to update where it went.
However, there is a tool to help manage congestion; it's called "Quality of Service" (QoS) which can recognize and prioritize critical packets (e.g. critical vehicles like fire trucks and ambulances). QoS is usually only implemented on private networks but during a crisis, it could theoretically be enabled on the internet.
I use QoS at home to ensure my work computer gets priority to the house's internet connection (the "last mile"). Here's what it looks like to setup on my home router:
Let's be honest though, streaming services are not "critical" and will not get QoS priority.  That is, no one is going to die, the economy will not suffer if someone's television isn't optimal. So this is the situation that video streaming is in:
Roughly 60% of internet traffic is video streaming which is why the focus is on reducing video quality which will reduce traffic loads.
How can video quality be reduced? Via compression, frames per second (fps) and/or resolution.  How much benefit is there from reducing this? Consider the "Standard Definition" digital equivalent is about 480p resolution. As portrayed in the bandwidth usage charts here,  Netflix bandwidth usage of 480p @ 23.976 fps versus 4K @ 59.940 fps is staggering! ~792 MB per hour vs ~7 GB per hour for a factor of over 7 times (700%)!
The impact may be annoying to some or some people might not even notice. I run all my video services at SD digital equivalent quality even pre-crisis because I don't care and don't really notice. I like that the videos load faster when they are smaller. Users may notice more so these differences on larger screens.
Compared to analog television, it doesn't matter what the streaming services cut, it will still be better!